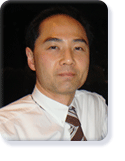 Title: Underwater Robots & Applications
Organizer: Dr. Hyun-Taek Choi, Korea Institute of Ocean Science & Technology, Korea
Abstract: Recently, an underwater robotic vehicle market known as conservative has been changed toward reducing operating cost. Since the major portion of operating cost is large supporting facilities and well-trained personnel's, robotic intelligence plays very important roles for highly demanding market-driven needs just like ground robots and aerial robots. Unfortunately, underwater environment is too tough to be able to make our expectation true, which could be barriers to people who want to get into new fused research area. Nevertheless, many researchers have been working for algorithms pursuing a real unmanned underwater robot, they have been announcing many results on various topics including robot vision, sound source localization, intelligent localization and navigation, probability based filtering, 3D path planning, middleware, optimal design & implementation and so on. In this session, we'd like to share common objectives regarding intelligent underwater robots and to try to give you new chances to pick up fresh idea from various background people.